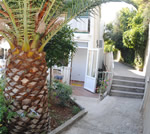 This lovely studio apartment is located in the part of Dubrovnik called Ploce, only five minutes walk away from the City (Old Town) and is perfectly suited for two people.
The apartment has its own entrance and greets you with a beutiful palm tree from the small garden in front of the entrance.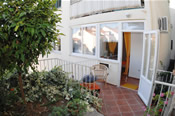 As already mentioned the featured accommodation is a studio-apartment and consists out of a small terrace, a bedroom, a small kitchen with table, and a bathroom. The apartment is air-conditioned. The apartment also has a TV and a Dvd player.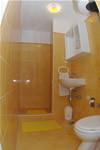 The apartment is tastefully decorated in cheerful and warm colors.
The whole interior of the apartment looks very neat and clean as landlords take good care of the apartment.
The landlord of the apartment is a tourist guide for English and Dutch so some tips on Dubrovnik could be an added extra.