The fairy tale appearance of the stone white forts, ancient palaces, and the crystal blue Adriatic give Dubrovnik that special romantic charm that is a prerequisite for any perfect wedding location.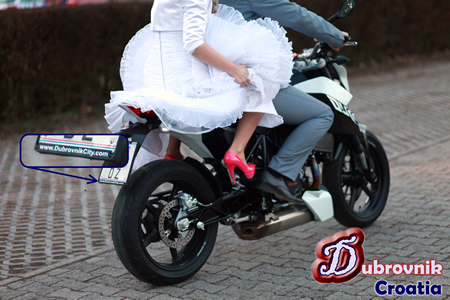 If you should decide on a wedding in Dubrovnik there are many factors that are overall benefiting to your wedding plan:
Dubrovnik has a high number of sunny days throughout the year
There are many venues to choose from; with a little bit of assistance you might book that one perfect venue.
Many airlines fly directly to Dubrovnik, especially during summer season
Accommodation options in Dubrovnik are varied enough to please even the most demanding or the cost concerned
Every little stone in Dubrovnik has its story; it will also tell your story in the most romantic way
Your guests can make sightseeing tours or join in a number of Dubrovnik vacation activities
You are reading this article, thus you are at the right place !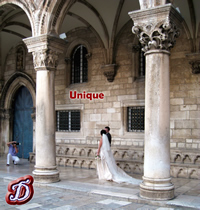 Every wedding is unique as every couple is a story by themselves. A good wedding planner can give you ideas and point you in the right direction. However no one can decide for you what is right for you. We will help you tell your story, you will lead the way. At the end we would have all shared an unforgettable journey that will remain with you forever.
There are many options how to proceed with your wedding arrangements depending on your preference; here are some ideas:
Dubrovnik Church Weddings
Wedding takes place in one of the many churches in Dubrovnik. Most popular and probably the most impressive location is the wonderful Baroque church of St Blasius, protector of the City.


Blue Adriatic Wedding
Wedding on a traditional looking Dubrovnik sail ship or a modern boat or a yacht with the view of Old Town Dubrovnik is something for those who love open spaces and the look and feel of the Mediterranean ambience.


Weddings in Ancient Dubrovnik Palaces
Sponza Palace and Rector's Palace are surely the most beautiful palaces in Dubrovnik and are a perfect location for weddings with a royal feel. For a more modest budget, there are some equally fascinating palaces in the surroundings of Dubrovnik.


Weddings on Dubrovnik Forts
One of the most impressive weddings venue are none other than Dubrovnik forts. The feel of the wedding and the resulting photography ar nothing short of breathtaking. Most popular locations include Revelin Fortress and Lovrijenac Fortress


Unique Island Weddings
These weddings take place in many locations of the Dubrovnik archipelago islands. Weddings in the lush green ambience of the hundreds-year old pine groves, slender cypresses wrapped up in the magnificent Gothic-Renaissance gardens surely have an unique Mediterranean flavour as the air is balmed with the fresh smell of the luxuriant vegetation.


Hotel Wedding
Includes weddings held and organized in one of the many Dubrovnik hotels, each bringing to the table the unique feel and ambience of their respective ball rooms, beach fronts, terraces, or other hotel pertinences.


Restaurant Weddings
Many Dubrovnik Restaurants are located in an unique ambience and offer a special atmosphere be it with or without sea views, river views, or something else entirely. Some restaurants bring to the table a reputation which boasts with culinary excellence and unsurpassed service.
Tell us your story, what should be right for you... and we will point you to the right direction and steer you clear of trouble !