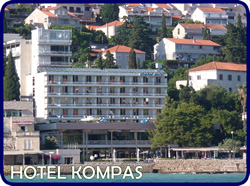 Situated over the Lapad bay just above the main Lapad beach, Hotel Kompas is less than four kilometres (2.5 miles) away from the City of Dubrovnik (the historical Dubrovnik walled City centre).
Hotel Kompas disposes with 115 air-conditioned comfortable bedrooms (twin and double rooms), all tastefully furnished. Thr rooms include shower or bath, WC, satellite TV, telephone, hair dryer, mini bar. Families can be accommodated in larger rooms or in rooms with interconnecting doors. Also, baby cots are available for rooms on request.
54 rooms overlook the sea allowing guests to enjoy impressive sunsets. The other 60 rooms come with a park view and are suitable for 2 persons or more.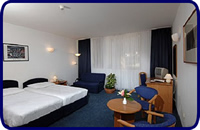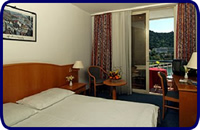 There is much to do while staying at the hotel and surrounding areas, from spending a leisure afternoon by the open swimming pool to swimming in the clear Adriatic at the beach under the hotell, to taking evening walks on the lovely promenade that is passing by the hotel.
The hotel's cuisuine is enjoyed in one of the two restaurants and terraces. Main hotel restaurant is decorated in modern style and has a capacity of 210 seats. The restaurant's offer includes a wide choice of local cuisine, fish specialities as well as an assortment of international dishes and sweets.
Rich breakfast and dinner buffet are a part of hotel service and if a guest is a vegetarian special dishes can be arranged to accommodate the guests special requirements. During summer months meals are also served on the terrace of the main restaurant.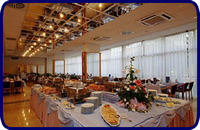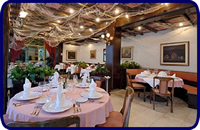 On the ground floor, with a beautiful terrace and the magnificent view of Sumratin bay (Lapad bay), The Restaurant Pizzeria Sedna offers Dalmatian cuisine specialities, as well as a choice of salads, cakes, and pastries.
Bistro offers local cuisine, vegetable dishes, pizzas, pasta, cakes, fruits, ice-cream as well as coffee drinks, and cocktails on during the summer special events on the tarrace featuring traditional Dalmatian live music and dance shows.
Next to the outdoor swimming pool Lido bar allows you to relax and enjoy the sun with a rich selection of ice cream, coffee drinks and many alcoholic and non-alcoholic drinks during those warm summer months.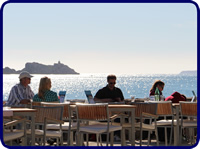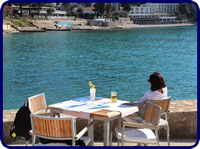 The wellness amenities available at the hotel Kompas are quite pleasing and feature an indoor salt water swimming pool, saunas and Jacuzzi (complimentary to hotel guests). Indoor pool is closed in high season (July and August), during which the outdoor swimming pool is opened.
There is also a Massage center and a Fitness center with professional equipment for a thorough workout.
In conclusion Hotel Kompas offers an all-round experience.