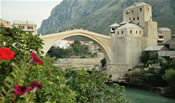 Mostar is a special city, maybe the only place in the world where the west meets the orient and blends in so perfectly. The feel of the long past times never leaves you throughout this popular excursion.
Mostar excursion brings you on a voyage that will show you the flair of the oriental architecture packed into a western feel.
Mostar was built in the late 15th century and was the chief administrative city for Herzegovina Region in the Ottoman Empire.
Mostar is famous for the Stari Most (Old Bridge) in the very center of the city, which is an UNESCO heritage site and from which comes the name Mostar.
Stari Most, a wonderful work of craftsmanship and architecture was the work of Mimar Sinan (Architect Sinan) the same man that built Selimiye Mosque in Edirne.
One of the favourite Mostar attractions is the Old Bazaar Kujundziluk where we find many artisans that sell their traditional hand made goods from their small shops on the side of the street. They sell everything from beautiful carpets, clothes and scarves to jewelry, pipes and nargilehs along with marvelously designed copper items.
The most asked about thing in Mostar is the food which is prepared in authentic Bosnian feel. The wonderful meals from the grill served with a dairy product called Kaymak or specialty prepared vegetarian pies are something you can't find anywhere in the world.
Mostar excursion guides you through the most interesting parts of Mostar making sure you see all the attractions, mosques, , churches, the bazaar and other historic sites and architecture masterpieces.