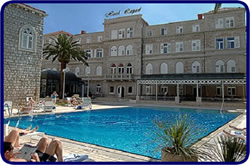 Hotel Lapad belongs to the few four star Dubrovnik hotels. It is located in Lapad, on the Lapad side of the Gruz harbour, only about 3 km (2 miles) away from the Old Town Dubrovnik.
The hotel is built traditionally and is known for its old world charm. An elegant Victorian-style facade forms the Piccola Venezia villa with two accommodation wings linked by an ornate courtyard, swimming pool, and lush gardens.
In addition to the regular local bus service close to the hotel there is also a boat connection with Gruz, stopping just outside Gruz green market.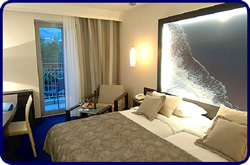 This charming Dubrovnik hotel has 316 beds in 157 rooms and 6 suites. Each room at Hotel lapad is equipped with air-conditioning and has a bathroom (bath-tub), telephone, and SAT TV. Standard rooms have no balcony. However majority of rooms at the hotel are with balcony, anda good number of balcony rooms features a sea side view as the hotel is oriented towards the sea.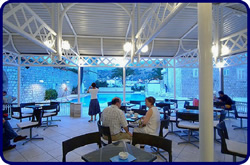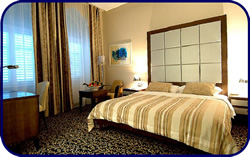 Superior luxury rooms are in the traditional building, providing either pool view or sea view. However these rooms are without a balcony.

Hotel Lapad has two restaurants, the main restaurant and the garden restaurant that is opened from May to October. Additionalyl to the two restaurants there is a pool bar with sun terrace at the outdoor fresh water swimming pool. During the summer months musical entertainment and pool parties are usual evening happenings.

Private hotel parking is secured for hotel guests.

Business oriented clients would be interested to know that Hotel Lapad has a modest conference room which is able to accommodate 70 persons.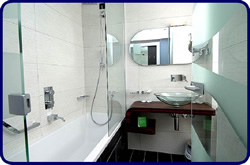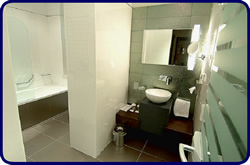 In conclusion Hotel Lapad is a very nice Dubrovnik Hotel providing above average accommodation and service.