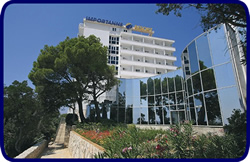 Importanne Resort Hotels are located in Dubrovnik, on the peninsula of Lapad, just four kilometers (3 miles) from the historical Dubrovnik to which it is well connected by a regular bus line.
Importanne Resort framework consisrts of three hotels: Hotel Neptun, Hotel Ariston and Importanne Suites as well as the exclusive Villa Elita.
Although the resort has an overall rating of only four stars, the rating itself is attributed only to Hotel Neptun. Other properties are rated as five star accommodation units.
Importanne resort has a wide offer of rooms and suites. Thus you can choose from: rooms, luxury rooms, superiour suites, and luxury suites.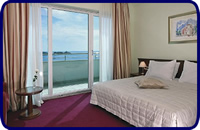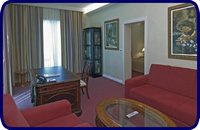 Luxury Suites offer an intimate and relaxing ambient for those seeking a romantic getaway. Comfortable king-size bed as well as the extra space of the living room and the two washrooms make up a suite. All suites have a minibar, room safe, two LCD TVs, multiple telephones, work desk, hair fan and cosmetic mirror. Spacious balconies are standard and will allow you to unwind while listening to the sound of the sea or breathing the fresh air from the surrounding gardens.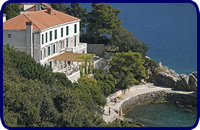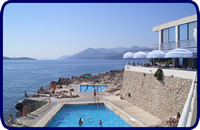 Superior Suites have a minibar, room safe, two LCD TVs, multiple telephones, work desk, hair fan and cosmetic mirror. Panoramic sea views and garden views, multiple washrooms and the living room will give you the feeling that you are in your second home.
Rooms in Hotel Ariston luxurious, designed with rich colours and spacious washrooms with all amenities. All rooms have a minibar, room safe, LCD TV, multiple telephones, work desk, hair fan and cosmetic mirror. Most rooms have a balcony with seaview and seating area.
Standard rooms are found in Hotel Neptun and they all have a balcony with seating area, shower tub, mini bar, room safe, telephone and SAT TV.
The resort features a la carte restaurant with finest choice of Mediterranean dishes, buffet restaurant on a terrace overlooking the Adriatic Sea, and an inavoidable "beach bar" that will keep you refreshed while relaxing poolside.
There are altogether three restaurant terraces where you are able enjoy fine cuisine with a selection of local and International wines. The unforgettable sunset and scenic views of the nearby islands will definitely take your breath away!
Business guests may be interested that the congress hall at Importanne Resort can accommodates up to 150 participants.
In conlusion the Hotels are located, seaside, in a scenic surroundings with a seaside walking path passing next to the hotels. The path leads to Uvala Lapad which is the most popular leisure promenade in Dubrovnik. Booking a stay at Importanne Resort Hotels takes you to the perfect grounds to having a relaxed and enjoyable vacation.