Dubrovnik donkey riding adventure is a half day adventure that will take you to the highest point above Dubrovnik, to the 412 m high hill Srdj, for an amzing overlook view and a completely different experience: the donkey ride.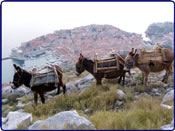 This adventure will teach you that donkey really is a magnificent animal. Donkeys are intelligent, cautious, friendly, playful, and eager to learn animals. Once a person has earned their confidence they can be willing, companionable and dependable partners.
Donkeys have a reputation for stubbornness, but this is due to some handlers' misinterpretation of their highly-developed sense of self-preservation.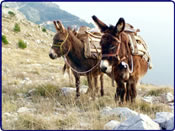 It is difficult to force or frighten a donkey into doing something it sees as contrary to its own best interest, as opposed to horses who are much more willing to, for example, go along a path with unsafe footing.
After enjoying a day in the saddle you will be invited for a good time and domestic snack in the traditional tavern.