Being a popular tourist resort Dubrovnik tends to have a lot of bars. Bars in Dubrovnik are mainly smaller and in the Old Town a lot of bars are located in the side streets connecting to the Placa / Stradun street. During night out evenings it is quite usual for some of the popular streets to become crowded with people. Then it is common for waiters to bring drinks to the people standing, next to the bar, in the street. One of the most popular such streets is Boskoviceva street.
The working time of the bars in Dubrovnik is until 0100 AM. However if the atmosphere is good, on some evenings, some bars are known to un-officially extend their working time and to work as late as 0300 AM. You know the party is soon to end when the police patrol discreetly comes to the bar and warns the owner to turn down the music and close the bar for the evening.
Nowadays the bars in Dubrovnik come in many flavours: you have different kind of pubs (normal and "Irish" pubs) that target the appeal of numerous English and Irish tourists coming to Dubrovnik. Also there are cocktail bars, and bars playing all kinds of music (techno, rock, popular, domestic...).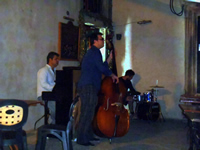 One of the most popular places in the summer are the "terrace bars" (lets call them that), where the tables are in the open under the starry sky. The most famous location for terrace bars is the Bunićeva Poljana (Square), a small square located behind the Dubrovnik Cathedral. The most famous bar there is the Jazz bar "Troubadour" owned by a musician family from Dubrovnik. During the summer nights they play live jazz music to entertain the guests.
During the autumn and winter season the bars at Iva Vojnovica street tend to be popular among the locals.
Most of the beaches in Dubrovnik have their own beach bar. However the promenade in Lapad is connected with the beach and is filed with bars and terraces. This is a popular laid back place for all seasons. Nothing wild happens here. It is a place for an easy evening out.