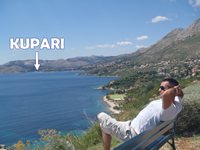 The village of Kupari is located approximately 6 km ( 4 miles) away from Dubrovnik deep in a horseshoe shaped bay while leaning against the northern slope of hill Gorice. Kupari is located in the area collectivelly called Zupa Dubrovacka (Zupa Dubrovnik). Once Kupari was popular for its seaside tourist resort complex that consisted of six hotels. It is one of the oldest tourist villages with firrst hotel built in 1920. The tourist resort is now closed as the hotels have not been renovated since they went ablaze in the Croatian Homeland war.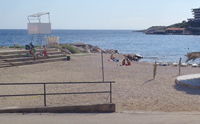 However all the reasons why Kupari was a popular tourist destination still remain: picturesque countryside, beautiful beach and the seaside promenade and walking path that stretch through most of the seaside settlements in the Zupa region. The seaside walk way starts at Kupari and runs through Srebreno, Soline, and ends in Mlini. The walk way is indented with coffee bars, parks, sitting seaside spots, and lovely beaches right under the path.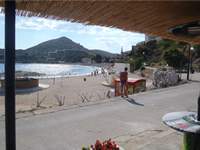 The beach in Kupari is a mixture of pebbles and sand. Apart from enjoyment of crystal clear sea, sun bathing and simple beach leisure Kupari beach has a lovely beach bar and a simple beach volleyball court.
To get to Kupari you can either go by public bus transport from Dubrovnik or by car. Since the hotels are not in function there is plenty of parking space in Kupari and in comparison with the hectic parking problems in Dubrovnik, Kupari is a refreshing alternative.