Lapad peninsula makes up for a larger part of Dubrovnik. Lapad is located to the west of the Old Town of Dubrovnik and encompasses several major suburbs of Dubrovnik.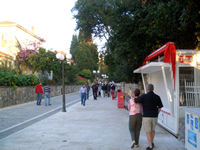 The beaches on Lapad are mostly concentrated in a bay called Sumratin bay, aka Lapad bay, or in Croatian "Uvala Lapad". The Lapad bay features an amazing promenade that protrudes all the way to the seaside and connects directly with Lapad bay beaches and a seaside walking path that takes you all the way to the end of the Lapad peninsula to the most serene view of the islands in the Dubrovnik archipelago, the Elaphite islands.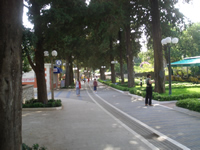 A fair amount of coffee bars, pastry and confectionery shops, and ice cream venues found their place on this lovely Lapad promenade with thier terraces luring in the walkers to sit and simply enjoy the view. Lapad bay promenade is one of the favourite leisure spots of Dubrovnik community. Many of the Dubrovnik hotels are also located close to the promenade and the nearby beaches making the whole area quite lively and touristic. The beaches in the Lapad bay are mostly a mixture of pebble area, rock area, and artificial concrete parts. Only the main beach called simply "Uvala" or in English "Bay beach" is sandy bottomed while the beach part is pebbles.
Lapad beaches offer something for everyone as the beaches deeper in the bay are more popular and visited, the beaches on the outskirts of the bay, going out more to the end of the peninisula tend to be less crowded and offer more intimate atmosphere.