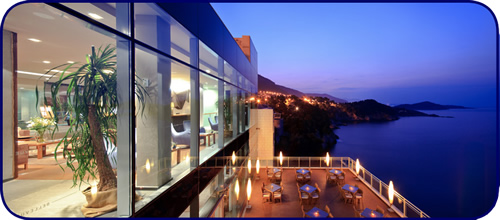 Atop a cliff, on a living rock, 30 meters above the Miramare bay overlooking the Adriatic, and just a walking distance (15 minutes) from the Old Town the luxury 5 star hotel, Hotel Bellevue, found its place.
This modern five-storey property is a veritable sanctuary for people who seek to relax their spirit and awaken their senses, escaping from the haste of everyday life. Hotel Bellevue claims to be a unique hotel for discerning individuals with an appreciation of luxury, superb service and attention to detail.
The interior of the Hotel is strongly marked by refined chic-art concept, organic materials and the irresistble Mediterranean feel. Using traditional arts and artisans and matching them with state of the art technological solutions results in a unique ambiance that simply inspires indulgence. Discrete as a true Dubrovnik gentleman, the Bellevue's appearance relies on the quality and texture of materials such as olive wood and grey granite.
Hotel Bellevue features 93 rooms, majority with balcony, including superior, deluxe rooms and Bellevue suites. Facilities in all rooms and suites include: en-suite bathrooms (bathrooms are equipped with toiletries, slippers and bathrobes) , interactive TV, Internet connection, air conditioning, mini bar, satellite TV, safe deposit boxes, hairdryer and direct dial telephone.
Suites have additional equipment plus a Jacuzzi in every bathroom.
Image of sailing on a luxury boat influenced the room décor and design - very simple and elegant yet leaves nothing to be desired for. All rooms and suites have a sea view while sea blue glass walls & balconies merely emphasize the magnificent view on the Miramare bay.
All the rooms of Hotel Bellevue host permanent exhibition of two prominent Croatian artists: Fedor Džamonja, painter and brilliant photographer and Željko Senečić, inspired painter, architect and experienced stenographer.