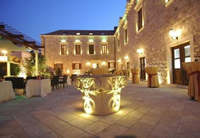 Hotel Kazbek belongs to the finest hotels in Dubrovnik. The hotel is located directly at the seaside in Gruz harbour, on Lapad side, only 3 km (1,5miles) northwest of the Dubrovnik Old Town.
Hotel Kazbek is a remake of a stunning old castle with rich and fascinating history reaching the the 16th century when it was constructed in 1573 by one of the Dubrovnik noble families Zamanje to serve as their summer residence.
History had not been kind to the residence hence the magnificent mansion passed through various violent ages until only the shell remained. In 2007 the summer residence was renovated to serve as a hotel and today it is standing as a masterpiece, welcoming its guest who enjoy every minute at this amazing residence.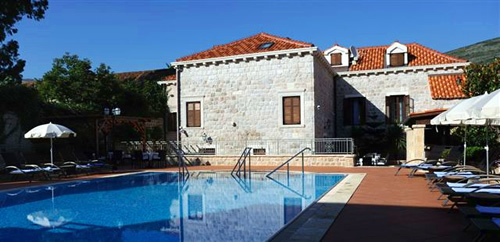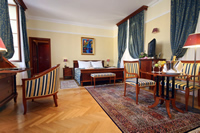 Hotel Kazbek has a capacity of 26 beds in twelve double rooms and one suite. All rooms are of the highest standard with air-conditioning, HD-TV, mini-bar, free wireless broadband connection and exquisite handmade furniture. Each room is a work of art. All of the twelve rooms have been decorated and furnished individually to make the guests stay unique and unforgettable. Each room features coat of arms taken from the old Dubrovnik ancestry. The rooms blend the style of the past with the convenience of the modern age.
In regards to dining, no one will feel left out at Hotel Kazbek asthe hotel houses one indoor and two outdoor restaurants with one outdoor bar in the pool area and one indoor bar next to the balcony restaurant.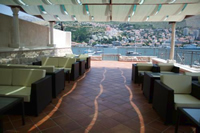 The Balcony restaurant features a wonderful view over the marina and the Gruz harbour. The comfortable sofas and the low dining tables make it very popular with guests for both the casual and the more formal dinners. The outdoor restaurant is located in the courtyard while the main restaurant is located on the ground level of the hotel.
Stay at Kazbek hotel resembles the long past times as you will surely feel as part of long gone Dubrovnik nobility. No doubt you will be treated as such as the service of the hotel is impeccable.