Dubrovnik Hotel Excelsior belongs to those exclusive hotels that can brag with their direct, unobstructed, view of Dubrovnik Old town. And it is true that this magnificent view is one of the reasons why Hotel Excelsior is known (according Sunday Times) as one of the finest hotels on the Mediterranean.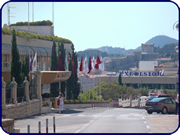 Hotel Excelsior is a luxury five-star hotel and a part of the Adriatic Luxury Hotels group that owns 7 other hotels on the Adriatic, most of them five star. Hotel Excelsiors location is perfect, only a short strall, five minutes, away from the historical Dubrovnik Old Town.
Hotel Excelsior has a long-standing tradition and has been operating since July 1913. During its rich, long history, many celebrities visited this luxurious Dubrovnik hotel.
The list of celebrities who visited the hotel include royalty as well as prominant personalities. The most prominent celebrities include Queen Elizabeth, Princess Margaret, Margaret Thatcher, King Olaf, , Edward Kennedy, Elizabeth Taylor, Richard Burton, Onassis, Vaclav Havel, Francesca von Habsburg and her family, Ivana Trump, Sir Roger Moore, Martin Sheen, Armand Assante, and others.