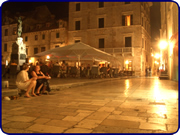 Hotel PuciŠ Palace is a 5 star boutique hotel located on the GunduliŠ Square of Dubrovnik Old Town. This is the only luxury hotel within Dubrovnik City walls. The hotel building is a 17th century Baroque palace, a integral part of the UNESCO's Old town Dubrovnik, and is surrounded by cultural monuments, lively cafÚs, museums, art galleries and is a perfect place to enjoy the charms of Dubrovnik and its abundant history. Pucic palace hotel has been set out in a way that guest feels like a king in the time of the long passed times of Dubrovnik Republic.
The Pucic Palace hotel features only 17 rooms and 2 suites adding to an exclusive and intimate experience. The hotel combines authentic features such as magnificent olive wood parquet floors and stone walls with modern amenities. Although the Pucic Palace hotel is in the immediate centre all rooms have individual air conditioning units, DVD and CD players and speed wireless internet access.
Pucic palace hotel, as a part of history, makes for the perfect Dubrovnik wedding and event venue.
The luxury boutique hotel hosts three restaurants and allows guests exclusive access to a private part of Banje beach just outside the Dubrovnik City, which is only a short stroll away.
The Pucic Palace hotel accommodation is decorated rich with warm tones that envelope the guest in luxury. The copacetic bathrooms at The Pucic Palace feature thousands of Romanesque Italian mosaic tiles lining the walls. The royal porcelain lined copper bath and washbasin are accompanied with separate shower and heated towel racks. At hand are luxurious Bvlgari amenities and plush cotton robes and slippers.